YOUNGEVITY BEYOND TANGY TANGERINE® – 420 G CANISTER
Youngevity Beyond Tangy Tangerine® contains a base of Youngevity Majestic Earth® Plant Derived Minerals® formulated with vitamins, amino acids, and other nutrients to make a balanced and complete daily supplement.
Majestic Earth® Beyond Tangy Tangerine® is all-natural and contains no starch, wheat, or yeast. As a "Natural Living Product", the color, taste, and consistency may vary from container to container.

BENEFITS OF YOUNGEVITY BEYOND TANGY TANGERINE:
Natural antioxidant
Great tangy tangerine taste
Supports overall health and a healthy immune, cardiovascular, and digestive system
Gluten-free with no artificial sweeteners or preservatives
Low glycemic index/glycemic friendly
Promotes health blood sugar levels
Highly absorbable
ORAC value of 5745
Fortified with 115 Fruits and Vegetables
Youngevity Products Beyond Tangy Tangerine has been touted as a super food drink for sometime. It recently has received many accolades while being championed by Radio Broadcaster Alex Jones of Infowars and Prison Planet.  Alex Jones lost over 40 pounds while supplementing Youngevity products  including Beyond Tangy Tangerine.  Here is a video that explains Alex Jones' success with this product:  
Click here to watch the video about Alex Jones losing weight with Tangy Tangerine!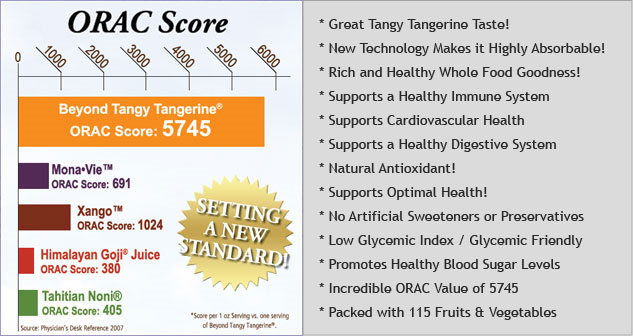 WARNING: If you are pregnant, nursing or taking medications, consult your healthcare professional before using this product. KEEP OUT OF REACH OF CHILDREN. For dietary supplement use only.